Adventist Church recognizes Community Member for Act of Bravery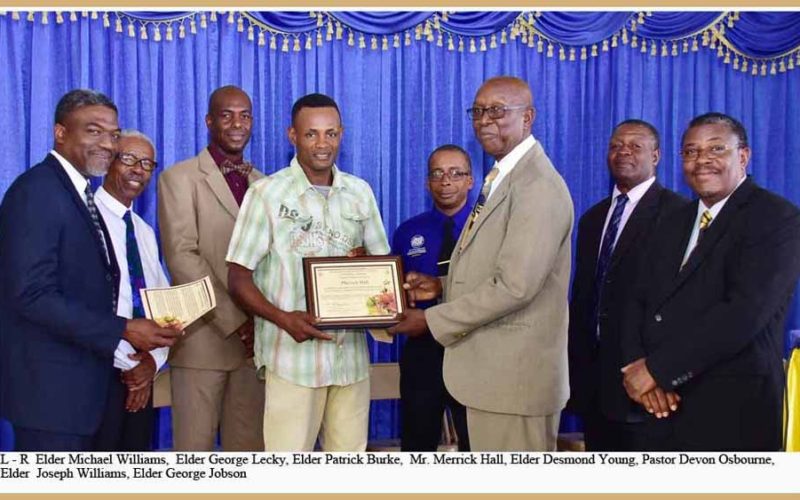 The spirit of courage, bravery and sacrifice was recognized by the leadership of the Whitehall Avenue SDA Church on July 1, 2018 when Merrick Hall, a member of the Whitehall community was presented with a  framed certificate and citation for risking his life in a fire on May 4, 2018. Hall  entered the burning house of a community member with the firemen's hose  to quench the fire at a time when not even the firemen dared to enter.
While no life was lost in the incident, the property and personal belongings of Sis. Camille Wilson who is a member of the Whitehall Avenue SDA Church, were consumed in the raging fire that engulfed the two ­ bedroom concrete structure at 10 – 12 Whitehall Avenue.
The East Jamaica Conference Wide Development (CWD) Team, Headed by Elder Desmond Young was alerted of the fire  the day after the incident occurred and immediately put a team in place  to assist with the clearing of the burnt out items and the restoration of the house.
In providing background information on the incident to the church, first elder Michael Williams said "thanks be to God for the   Seventh-day Adventist Church and the East Jamaica Conference Wide Committee that was very generous in assisting with putting back the home of our dear sister."
 Young confirmed that the CWD Team made good on their promise to assist with restoring the house that was destroyed by fire. "We completely restored the house with improvements," said Young. "Before the fire, the floor was not tiled, the external walls were not rendered, the roof was leaking and no electrical works were done. Now she has a completed house," said Desmond Young.
On the day in question, on seeing smoke emanating from the house, members of the community alerted the fire brigade who arrived to see the contents of the house on fire. On hearing that there was a gas cylinder in the kitchen, the firemen refused to enter the  house fearing that   at any moment, the cylinder would explode and cause injury or even death to anyone in close proximity.
It was at this juncture that Merrick Hall stepped forward and placed himself in harm's way by going into the house with the hose. His action averted the total destruction of the house and its contents and saved other buildings which were in close proximity.