ASI Missionaries leave on Mission Trip to Tobago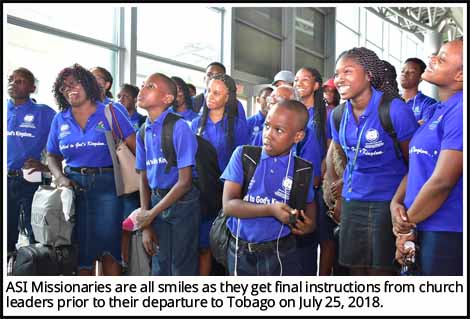 More than twenty ASI Missionaries from East Jamaica Conference left the Norman Manley International Airport for Tobago on July 25, 2018 for the ASI MISSION 2000 & Beyond mission trip  which will run from July 25 – August 21, 2018. The group left the island with the support and prayers of parents, family members, pastors and Conference administrators who went to see them off at the airport on Wednesday.
Conference Secretary, Pastor Linton Williams, Treasurer Elder Donmayne Gyles, CWD Chairman Elder Desmond Young and Pastor Michael Lewis whose daughter was part of the team,  had final words of encouragement and prayer for the group that departed at 2:30 pm on a direct flight headed to Trinidad.
Leader of the contingency from Jamaica, Elder Claudette Genas, in updating pastors and church leaders about the mission trip last week said, "We provide yearlong training and exposure to the children in the local churches and once per year their gifts and abilities are harnessed for public evangelism in one field. The ASI Mission 2000 & Beyond is a vehicle where the children and youth are given more   opportunities to be engaged in volunteerism humanitarian projects and evangelistic outreach."
The aim of the project is to:
1. To raise up a generation of bold children and youth who will know from their personal experience that God can use them to do important things for Him.
To lead our young people into a more meaningful relationship with God through the study of His word.
3. To lead our children from the earliest possible age into active service for God and humanity.
To mobilize the children and youth in the Seventh-day Adventist church for evangelism and humanitarian projects.
Genas, who is also the Family, Women, Children and Adolescents Ministries Director of East Jamaica Conference also confirmed that mission is done "entirely by children, ages 4 -30 years."
She disclosed that typically on mission trips, during the days, joint teams of young people take part in community projects. This includes work on construction sites, repairing and painting homes of people in the community, feeding the homeless, painting of schools, street clean up, beach cleanup, hospital and visiting people in prisons.