God's Presence the Ultimate Security – NCU VP
Dr Newton Cleghorne, Vice President of Student Services at Northern Caribbean University, has encouraged members of the security forces in Jamaica to stand up to the criminal elements that have beset the nation.
Speaking recently at the 19th Annual Prayer and Thanksgiving Service for the Security Forces hosted recently by Northern Caribbean University (NCU), Dr Cleghorne argued that some of the internal processes in the Jamaica Constabulary Force made things more difficult for the police to effectively do their jobs.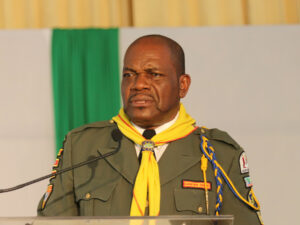 "Use your best judgements. You should not go down for a criminal! You should stand up and face him and do what the law has allowed you to do, and do it well," Dr Cleghorne, an international evangelist in the Seventh-day Adventist church, advised the gathering of police officers. "I remove guilt from you today. You do what you have to do, for the law will cover you," he added.
In Dr Cleghorne's view, the nation must apply "extreme measures for desperate times". He referred his audience to the Singapore-Colombia model of crime management – a hard and no-tolerance approach to even the simplest of crimes. His solutions for crime in Jamaica include strict moral training and discipline for children, securing the countries ports of entry, and persistent prayer on a national level.
Focusing on Psalm 91, he made the point that ultimate security was not in the efforts of humans but in the presence and protection of God. "Outside of the presence of God there is no guarantee of true safety and security," asserted Dr Cleghorne, who is also Site Coordinator at NCU for the Inter-American Adventist Theological Seminary.
In his remarks, President of NCU, Dr Lincoln Edwards alluded to the challenges facing law enforcement in the light of rising evil. He mentioned the rise of the black market for pharmaceuticals and the recent murder of 8-year old Chantae Skyers of Sterling Castle Heights in St. Andrew.
The thanksgiving service was held on April 27 at NCU's Mandeville Campus under the theme Serving Community Together for Over a Century. Police from the Jamaica Constabulary Force (JCF) Area 3, comprised of Clarendon, Manchester and St. Elizabeth, came out to worship and to support their colleagues who were receiving awards, as well as to remember officers who had died in the line of duty.
The service was sobering as security officers were reminded of their vulnerability and their need for God, even after a century of service to the community. The morning's service brought home the fact that grief, loneliness, aloneness, suffering caused by crime and death were all part of the human experience and that security officers were not immune from such exposure.