In Inter-America, Church-Operated Radio Stations To Become Part of Hope Radio Network
Bringing about unity among the more than 80 radio stations run by the Seventh-day Adventist Church in Inter-America is what church leaders have been working toward recently. During one session last week, church leaders, communication directors and radio staff from across Guatemala and other parts of Inter-America met to discuss ways for greater integration and collaboration to better support the mission of the church.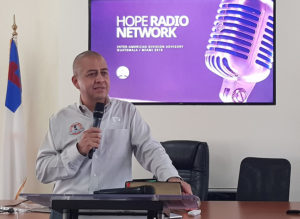 "We must not continue working in isolation, thinking that we can enrich this radio station or that but focus shedding more light on the church and its mission," said Abel Márquez, communication director for the church in Inter-America and main organizer of the event. "It is important that we exchange ideas, build relationships, share efforts, and support each other as we work together in the process of helping transform the lives of listeners so they can become disciples of Christ."
The meetings, which brought together key personnel from radios stations in Guatemala, El Salvador, Colombia and the Dominican Republic, as well as Hope Channel coordinators in Guatemala City, Sep. 18-19, 2018, was the first of two advisory sessions this year aimed at laying the foundation to establish the Hope Radio Inter-America network.