WJC Called to United Action for 'Project 2019'
With approximately six months before the grand celebration, that will culminate the Mission Project 2019 initiative in Jamaica, on Sabbath, September 1, 2018, the West Jamaica Conference Territory was called to action by leaders from the Jamaica Union and the local Conference to unite their efforts for this mission.
In a rallying call to the congregation in Westmoreland, Pastor Everett Brown, the Jamaica Union President, who was one of the five speakers on the day, passionately expressed his acknowledgment of the Holy Spirit's call to the Church to be united for the cause of Project 2019, ultimately hastening Christ's return.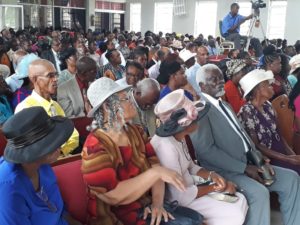 "The Spirit of God has called us together," said Pastor Everett Brown "as we seek to place before God the plans that He has already blessed.  We have come today as a united force, to place our resources and our lives in the hands of God. We have come under the leading of the Holy Spirit, determined to finish the work that God has entrusted to His Church" he said.
"Project 2019, is not a new program" continued Pastor Brown.  " It is a new emphasis and thrust– a vision of what God is doing and what God wants to do with His Church, just before we cross over into Canaan's happy land" he exclaimed.
The conventions which covered the four Parishes within the Conference had as the theme: "Beyond the Ordinary: Going for More". During his sermon, Pastor Brown called the Church to carry the burden of the theme.
"We are not going anymore for the ordinary, we are going for the extraordinary, because… we worship a God who is extraordinary. We are going for more, under the blood-stained banner of Prince Emmanuel" emphasized the Union President.